Our HIOTS head office is located in Lucerne in the heart of Switzerland. The canton's strengths are based on a diversified economy, well-trained people and attractive location factors. All these characteristics make Lucerne an excellent location for expanding our global business presence. HIOTS was founded with the goal of providing long-term, global IoT (Internet of Things) solutions that provide a reliable, simple and trusted connectivity solution for many types of applications.The long-standing cooperation with our international development partners, customers and partners from different industries enables us to offer advanced connectivity solutions in various business areas: Automotive, Non-Road, Mining and Marine. Our portfolio of products and services includes monitoring and logging devices networked with our proprietary cloud solution that supports online monitoring. We also develop software solutions and user-friendly apps for smartphones and tablets. Furthermore we offer standardized IoT solutions with preconfigured connectivity kits as well as semi or fully customized solutions. Our business development is always long-term and based on partnership in order to guarantee successful project implementation.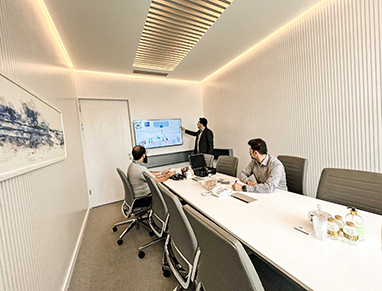 Our highly motivated, experienced and competent team has many years of successful experience in the implementation of international projects. But it is not just IoT solutions that we offer our customers. It is much more about people, entrepreneurs, managers and employees: Our solutions help them to optimize their business and their work, which means less stress and a better quality of life.
Martin Kovac
CEO and founder
We are an experienced, open-minded team with a global presence. We take care of your business optimization, business development and end-user satisfaction. We combine our technical expertise with many years of proven experience from all over the world: Europe, USA, Canada, Australia, Southeast Asia, etc.
All our products are made in Swiss, with precision and care even for the smallest technical details of our solutions. Our global business is supported by a network of international partners on virtually every continent.
INNOVATION
We believe in the importance of innovation in the development of products and services. We operate professionally in all our business segments, foresee changes and adjust at an early stage.

QUALITY AND EFFICIENCY
We are commited to achieve and maintain high operating standards through technical expertise and management skills. In this way we achieve maximum efficiency and global effectiveness for our international markets.

RESPONSIBILITY
We aim for sustainable development, which means attaining excellent operating results while safeguarding the environment and improving the quality of life – for present and future generations.